Asbestos Abatement and Removal in Calgary
Your property should be a space where you know you're safe and your health isn't in jeopardy. Whether it's your home or your business, you shouldn't have to worry about your health or deal with any unnecessary respiratory symptoms from your building.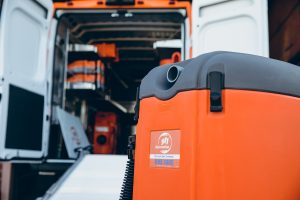 Asbestos is a group of six naturally occurring minerals made up of soft, flexible fibers that are heat resistant and was commonly used in building installation practices up until the early 1990s. Unfortunately, asbestos causes cancers and other diseases, including mesothelioma and asbestosis when its fibers are released into the air. Many commercial buildings and homes can still have asbestos within them.
While having asbestos in your home can cause serious health issues, it's not something you need to panic over. In fact, when you find the right asbestos abatement and removal partner in Calgary, your worries can be easily solved. Fortunately, 911 Restoration of Calgary provides asbestos abatement and removal 24/7/365 and even guarantees an arrival time of 45 minutes or less. 
Certified Restoration Experts in Calgary
What makes our IICRC-certified technicians stand out amongst other contractors is their dedication to give you a Fresh Start while serving you with compassion. We understand you may be experiencing worry over discovering asbestos on your property, so we work diligently to remove all traces and keep you informed on the process every step of the way.
Upon arrival, our asbestos removal team will perform a free visual inspection (for property owners only) and determine if there is asbestos in your home or business. We check drywall, flooring, baseboards, ceiling tiles, and any other areas where asbestos can be found. 
We want you to have complete trust in us, so after your free visual inspection, you sit down with an expert on staff for a free insurance consultation. This is when we walk you through your policy and figure out what services your insurance provider covers and what costs will fall to you. 
If you suspect there may be asbestos on your property, call a partner you can really trust. Contact 911 Restoration for asbestos abatement and removal in Calgary today. Your Fresh Start is waiting. 
Telling Signs that You Need Asbestos Abatement and Removal
You might believe there's no harm in leaving asbestos in your home or business, but that belief is wrong. It's critical that you have proper removal because when left unchecked asbestos can cause respiratory issues such as lung inflammation and scarring and lung cancer.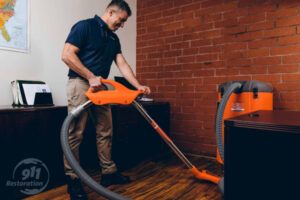 Not all exposure will lead to a severe illness. It all depends on how long you've been exposed, how much asbestos you've been exposed to, and if you have other pre-existing lung conditions. Unfortunately, the first signs of asbestos exposure are the symptoms of related diseases usually involving the lungs. 
Signs of asbestos exposure may include:
Shortness of breath
Dry cough or wheezing
Crackling sound when breathing
Chest pain or tightness
Respiratory complications and more
If you notice any of these symptoms, it's essential you call a trusted professional to inspect your property and uncover any asbestos that may be hidden in your home or business.
At 911 Restoration of Calgary, we don't just care about the state of your property—we care about your health and that's what motivates us to ensure no trace of asbestos is left behind.
Our asbestos removal technicians practice strict health and safety guidelines so that you can have peace of mind knowing your health is protected against the effects of asbestos. 
Don't wait until it's too late. Call 911 Restoration of Calgary today to inspect your property for asbestos and receive proper abatement and removal.
Asbestos Abatement and Removal in Calgary You Can Trust
Finding the right partner to handle your asbestos removal can be a difficult process. You want someone who has all the proper training and certifications and is also capable of providing quick service and clear communication. 
At 911 Restoration of Calgary, we offer a Fresh Start with our comprehensive selection of property damage restoration services, including but not limited to:
When you choose 911 Restoration to handle your asbestos removal, you can expect the best technicians in the industry with the most transparent business practices. From the very first phone call you feel like our one and only customer.
If you're concerned there may be asbestos in your home or business, don't wait and risk your health even further. Call our disaster restoration companies professionals for a Fresh Start today.