Fire Damage Restoration Calgary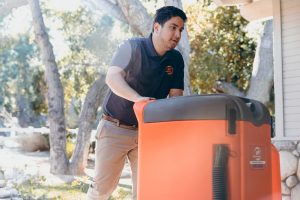 No matter how it may seem right now, fire and smoke damage is not forever. Whether you've been through a fire, puffback, or any other type of smoke-related destruction, 911 Restoration gives you a Fresh Start with comprehensive fire damage restoration services in Calgary.
At 911 Restoration of Calgary, we offer a Fresh Start with our comprehensive selection of property damage restoration services, including but not limited to:
We provide comprehensive puffback cleanup, smoke restoration, and fire cleanup in Calgary. Our IICRC-certified fire damage restoration crew covers everything you need for a full recovery. That includes soot, odor, and smoke removal, structural repairs, fire cleanup, and much more. We know how overwhelming a property disaster can be. Our goal is to keep the restoration process as simple as possible.
Comprehensive Fire Damage Restoration Company in Calgary, Alberta
When you call us, you're done. You won't need to hire additional contractors, and you don't even have to navigate insurance alone. A member of our fire damage restoration staff sits down with you for a free insurance consultation. They assist with everything from understanding your policy to filing a claim. We accept all types of insurance so our fire cleanup and smoke restoration service is accessible to everyone.
Consider 911 Restoration your fire information center. The fire damage restoration process can feel daunting when you don't know what to expect. A little knowledge goes a long way towards finding peace of mind. We're here for you 24/7 to answer all your questions. We even provide a zero-obligation, free fire damage assessment (for property owners only).
911 Restoration of Calgary is licensed, insured, bonded, and locally owned and operated. We provide fire cleanup and smoke removal for homes and businesses in Hillhurst, Mount Pleasant, and throughout Northwest Calgary. Above all, we promise clear communication and immediate peace of mind.
It's okay if you struggle to see the light at the end of the tunnel. Our fire and puffback cleanup techs can lead the way to a Fresh Start. Call now for the compassionate service you deserve.
A Full Recovery With Fire and Smoke Damage Restoration in Calgary
Our fire damage restoration crew works by the Fresh Start philosophy. The Fresh Start philosophy is our belief that every disaster is an opportunity to rebuild better than ever. 
For you, that means our technicians do whatever it takes to leave you with a property that feels brand new. Every member of our fire cleanup staff has completed rigorous training to ensure top-quality, comprehensive service for our customers. The fire damage restoration or puffback cleanup process looks a little different for each unique situation. But here's a general look at what you can expect.
Our fire and smoke damage experts often begin by packing out and storing your unharmed belongings. This prevents additional losses during the smoke removal process.
Cleanup Begins After Restoration
Then, they begin cleanup. Our smoke restoration technicians frequently use sodablasting for soot, ash, and smoke removal on large surfaces. They also clean smoke damage from dishes and furniture. In some cases, the puffback cleanup crew will also employ additional methods to ensure permanent odor removal.
On occasion, property owners find themselves dealing with a flood after the fire department has extinguished the flames. We offer a solution for that, too. Our fire cleanup staff is also certified in water damage restoration. They remove the water and repair all related damages.
Finally, our fire damage restoration professionals repair destroyed surfaces and structures. They bring a wide range of expertise to their work, restoring everything from your roof to your floorboards. By the time our fire cleanup service is complete, your home or business is stronger than ever.
You deserve more than a quick puffback cleanup job. You deserve comprehensive solutions for a bright new beginning. Call 911 Restoration of Calgary for a Fresh Start.
Complete Answers for All Your Fire Cleanup Questions
A property fire can send your mind reeling. Fortunately, finding answers is easier than you might expect. At 911 Restoration of Calgary, we anticipate your biggest questions, offering answers before you even have to ask. This begins with our free fire damage assessment (for property owners only). At your request, we send a member of our smoke damage staff to take a look at your property. They talk through your options for restoration, helping you set clear expectations for cost and timeline. This is a no-pressure service. Our only goal is to help you find clarity so you can make the best decision for your property and yourself.
We also offer a free insurance consultation. Because fire damage restoration and puffback cleanup are often multi-service processes, it can be difficult to guess what your provider will pay for. We find those answers for you. A member of our fire cleanup staff explains your coverage in clear terms. Then, they help with inventory and loss itemization, file a claim for you, and bill your provider directly so you can focus on rebuilding your life.
When we say we offer full-service IICRC-certified fire and smoke damage restoration, we're not just talking about our practical services. We mean that we also offer clarity, compassion, and peace of mind.
You will get through this. And we can help. Call 911 Restoration of Calgary for comprehensive fire damage restoration in Calgary.