Sewage Backup Cleanup Calgary
911 Restoration of Calgary provides 24-hour sewage backup cleanup and disposal in Calgary. We serve both homes and businesses with comprehensive sewage water cleanup, including disinfection and damage repairs.
Our flood cleanup crew understands how horrifying a sewage backup is for a property owner. You've put years of work into making your property pristine. It hardly seems fair that the space can become contaminated by a single sewage water backup.
At 911 Restoration of Calgary, we offer a Fresh Start with our comprehensive selection of property damage restoration services, including but not limited to:
Our water damage restoration Calgary technicians work diligently to give you a Fresh Start. They go beyond sewage water cleanup, offering extensive property repairs so your property feels fresh and clean again. Our IICRC-certified staff is even trained in mould inspection. You can count on them for a thorough inspection and safe, reliable mould removal. Whatever it takes to eliminate all signs of sewage water damage.
Locally-Owned and Trusted Restoration Company
As a locally owned and operated business, we value you as a neighbor. When our sewage water cleanup crew arrives at your property, they're not just thinking about blackwater removal. They're concerned about your health and safety. Our workers always conclude sewage cleanup with extensive disinfection.
You can also count on us for genuine compassion and open communication. When you call us to repair your sewage water damage, you are placing your greatest asset in our hands. We take that responsibility seriously, and we make sure you always know what our sewage backup experts are doing and why they're doing it. Our staff also works to put your mind at ease with free information services. This includes a free visual inspection (for property owners only) and a free insurance consultation. 911 Restoration of Calgary works with all types of insurance, and we even help you make sense of your coverage and file a claim.
You're not in this alone. Call 911 Restoration of Calgary for a Fresh Start.
Immediate Relief from Sewage Water Damage in Calgary
Full-service sewage water damage repair is our ultimate goal. But speed is our first priority.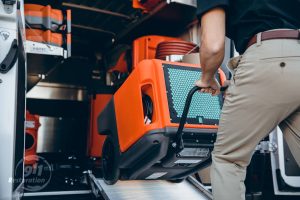 A sewage backup puts your property at risk in countless ways. Standing blackwater can lead to major structural problems, including weakness, rotting, buckling, and warping. A delayed response to a sewage water backup may also result in mould development. Most significantly, a sewer flood introduces dangerous microorganisms to your property, including viruses, bacteria, and parasites. We want to remove this threat from your home or business as quickly as possible.
Call our sewage water cleanup crew at any hour of the day or night, 365 days a year. We guarantee an arrival time of 45 minutes or less, so you're not left waiting hours for relief.
When our staff arrives, their first priority is getting blackwater off your property as quickly as possible. They extract the sewage right away and bring in professional blowers to dry the structure of your home or business. Then, our sewage water damage experts thoroughly sanitize the affected area.
The panic you feel over a sewage water backup is normal and justified. This is an urgent situation. The good news is, you can get through it quickly and safely with the help of 911 Restoration. 
Call now for an immediate response to your sewage backup in Calgary.
A Fresh Start After a Sewage Backup in Calgary
911 Restoration of Calgary is not just another flood cleanup company. We pride ourselves on our commitment to giving local property owners a Fresh Start after any disaster. This means we address the full scope of your sewage water damage.
After the sewage cleanup crew extracts the toilet water and disinfects the area, they check for structural damages. Sometimes even the swiftest response cannot prevent sewage water damage. Perhaps you were not present when your sewage backup occurred, and you called too late. Or maybe the extent of the flood made it impossible to dry the area quickly enough. Either way, there are times when sewage water damage is unavoidable. If your structure or surfaces are destroyed in any way, our highly trained team can help. They take care of everything from contaminated carpet removal to drywall repair.
Another possible side effect of a sewage water backup is mould contamination. Mould spores can create a new colony with as little as 24 hours of exposure to a damp surface. This is why we make sure all our sewage cleanup workers are also trained and certified in mould removal Calgary. They inspect for fungus after every water-related disaster and handle mould removal personally.
At 911 Restoration of Calgary, we believe you deserve more than a cursory cleanup job. We want you to enjoy a strong, beautiful property, even after a nasty disaster.
Call now and look forward to loving your home or business once again.