Commercial Water Damage Restoration in Calgary
A threat to your property is a threat to your livelihood. Whether you need water damage restoration calgary or fire cleanup, you need immediate solutions and quality service. You need 911 Restoration of Calgary.
We're here for you 24 hours a day, 365 days a year. Call us even in the dead of night or at noon on a holiday, and we'll be at your door in 45 minutes or less, guaranteed.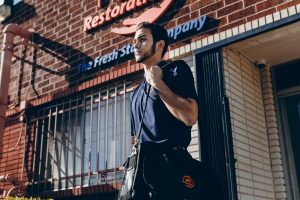 Our IICRC-certified commercial restoration staff provides this urgency because we understand how much is at stake when your business property suffers a disaster. Even a seemingly minor mould infestation can complicate your workflow and threaten your bottom line. Turn to us for immediate solutions, including:
Water damage restoration

Sewage backup cleanup

Smoke and odor removal

Structural repairs

Sanitization and deep cleaning

Mould inspection

Disaster restoration

And much more
We recognize that when a disaster strikes your property, you have much more to worry about than cleanup and repairs. Our commercial restoration experts do what it takes to keep unnecessary tasks off your to-do list. We ensure every member of our staff is extensively trained in all aspects of restoration, including cleanup and complicated structural repairs. That way, you don't have to track down another contractor. We also provide a free visual inspection (for property owners only), a free insurance consultation, and filing assistance.
Above all, 911 Restoration understands how valuable your commercial property is to you. When you trust us with your business facility, we take that responsibility seriously. You see that in our dedication to professional transparency and regular communication. We are licensed, insured, bonded, and locally owned and operated. 911 Restoration of Calgary serves Hillhurst, West Hillhurst, Mount Pleasant, and all neighborhoods throughout Northwest Calgary.
Don't settle for just any cleanup contractor. Choose the commercial restoration experts who understand the unique needs of a business property. Call 911 Restoration of Calgary today.
The Fastest Commercial Water Damage Restoration in Calgary
Speed is crucial when it comes to industrial water damage restoration. The longer water lingers on your property, the worse and more costly your damages will be. That's true for homes and businesses alike. But water damage restoration is especially urgent for commercial property owners. If your business isn't clean, dry, and safe, you cannot easily do your job. 
Rest assured, the flood cleanup staff at 911 Restoration recognizes your water-related disaster for the emergency it is. They are at your door in no more than 45 minutes, no matter what time you call.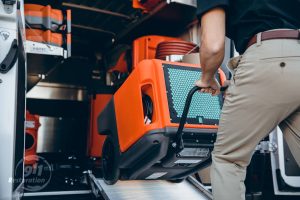 At 911 Restoration of Calgary, we offer a Fresh Start with our comprehensive selection of property damage restoration services, including but not limited to:
We are also aware that your commercial property is part of your reputation as a business owner. That's why we go the extra mile to make your business feel as strong and clean and as the day you moved in. Our water damage restoration techs conduct structural testing to make sure your property is still standing strong. If there is a problem, they handle repairs themselves. They also conduct a comprehensive mould inspection and follow up with mould decontamination as needed. Our crew even packs out and stores any at-risk inventory or items at the beginning of the flood cleanup process to ensure all your unharmed belongings remain unharmed.
Your water damage episode doesn't have to be a setback. With 911 Restoration on your side, this can be an opportunity for a Fresh Start. Call us today for full-service commercial restoration in Calgary.
All Your Commercial Restoration Insurance Questions Answered
Your to-do list is already overburdened by your property disaster. The last thing you need is to spend hours trying to find answers from your insurance company.
That's why we offer a free insurance consultation. You can already rest assured that we accept your insurance. 911 Restoration works with all providers. However, it may not be immediately clear which commercial restoration services your provider pays for. We find those answers so you don't have to. A commercial restoration expert on staff explains your coverage clearly, helping you set reliable financial expectations. Beyond the initial consultation, our team is happy to assist you with the process of inventory and loss itemization. Then, you can leave the rest up to us. We file a claim on your behalf and send our bill directly to your provider. You are never caught in the middle of a transaction that doesn't concern you. 
The bottom line is that we seek to give you peace of mind in addition to excellent service. You've worked so hard to make your business property great. Let us honor that effort by giving you a Fresh Start with the help of our IICRC-certified professionals.
For thoughtful, attentive commercial restoration in Calgary, call 911 Restoration today.