Water Damage Restoration Calgary
Pipe bursts, flooded basements, and other water-related disasters are all too common in Calgary. Rainy weather and freezing temperatures wreak havoc on local homes and businesses. Factor in washer machine floods, sprinkler malfunctions, and other household incidents, and water damage seems altogether unavoidable.
Fortunately, property owners throughout Northwest Calgary can turn to 911 Restoration 24/7/364. We guarantee an arrival time of 45 minutes or less, even in the dead of night or the middle of a holiday.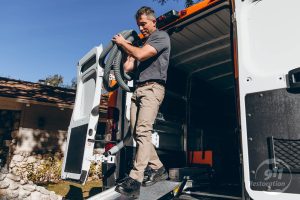 Every technician on our water damage restoration and mold removal Calgary crew is trained to handle any disaster. Our staff is IICRC certified and 911 Restoration is licensed, insured, and bonded. We make sure our team is fully equipped to handle the entire flood cleanup process. That includes:
Water extraction

Carpet water removal

Structural drying

Disinfection

Structural repairs

Mould inspection

Mould remediation

And much more
When you call us, you can count on a full recovery from your pipe burst or property flood.
At 911 Restoration of Calgary, we offer a Fresh Start with our comprehensive selection of property damage restoration services, including but not limited to:
Our water damage restoration staff also champions full transparency, beginning with a free visual inspection (for property owners only). We provide a free insurance consultation so you know exactly what to expect financially. 911 Restoration of Calgary works with all insurance providers, so you know you're covered. Above all, we are a locally owned and operated business, and we value the people and properties that keep our community strong. Count on us to treat you with compassion and treat your property with respect. 
For residential or commercial water damage restoration in Calgary, call 911 Restoration today. We give you a Fresh Start.
24 Hour Emergency Water Cleanup
Every water damage incident is an emergency. That's why you can expect an immediate response from 911 Restoration of Calgary. Our flood cleanup crew is here for you 24 hours a day, whether you're dealing with a pipe burst, flooded basement, or ceiling leak.
We believe in providing speedy flood cleanup because a swift response is the best way to minimize damage. Standing water quickly leads to rotting, buckling, mould contamination, and other forms of structural damage. Our goal is to save time, stress, and money by providing fast, reliable water damage restoration.
Our flood cleanup and mould removal crew provides a range of emergency services. First, they survey your water damage and strategize a plan for fast water removal. In the event of major flooding, they may pack out and store your undamaged belongings for safekeeping. Then, they take all necessary steps to stop the flow of water and extract all moisture. This could include leak detection, boarding up, roof repair, storm repair, sewage removal, and more.
911 Restoration is more than a flood cleanup company. We believe in providing comprehensive water damage restoration so you can enjoy a brand new property. This means we go beyond water removal, offering structural testing, mould inspection, mould remediation, and property repairs. Our expert technicians handle it all, from drywall replacement to carpet removal.
We understand how much your property means to you. You've worked so hard to make your home or a business a refuge, and we are determined to make sure that hard work pays off long into the future. Let us keep your property strong beyond pipe bursts and floods.
Turn to 911 Restoration for the best flood cleanup in Calgary.
Expert Mould Removal in Calgary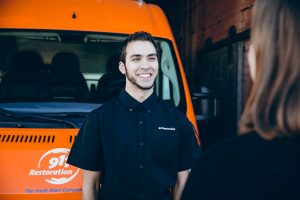 Mould inspections and mould remediation are essential to our water damage restoration process. This is part of our Fresh Start promise. If you have a mould infestation as a result of a flooded basement, you haven't truly recovered from water damage. And whether you own a business in Hillhurst or a home in Mount Pleasant, you cannot afford to let fungus thrive on your property.
Left unchecked, a mould infestation can cause serious damage to the structure of your home or business. More importantly, prompt mould decontamination is essential for maintaining your health. Fungus releases dangerous particles into the air you breathe. Over time, these particles collect in your system and can lead to health problems such as asthma and even heart conditions.
This is why our mould decontamination crew takes mould inspections seriously. They examine your property thoroughly in search of any sign of new or hidden growth. They use advanced methods and tools to ensure a safe and effective mould removal process. Then, after mould remediation is complete, they dehumidify the structure itself. This drastically minimizes the risk of a repeat infestation. 
As with all our services, mould decontamination is comprehensive. If you have permanent staining or structural damage from a long-standing infestation, our mould remediation specialists repair or replace all contaminated materials.
It is crucial that you leave mould decontamination to trained professionals. Do-it-yourself mould removal is rarely effective and is often dangerous for you.
Call 911 Restoration of Calgary. You are in good hands with our mould remediation crew.