Mould Removal Calgary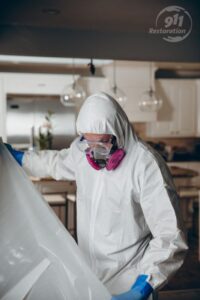 Do not put off mould remediation simply because it seems "too early" to make a big deal about fungus. A mould infestation will only get worse, and the longer you wait, the more costly your damages become. There are many reasons to pursue a mould inspection, such as:
There is a mildew-like odor coming from behind your walls

You wake up dizzy

You're experiencing frequent headaches

Your allergy symptoms are inexplicably worse

There has been a water damage incident on your property

You can clearly see splotches or slime on your wall, ceiling, floor, or pipes
At 911 Restoration of Calgary, we offer a Fresh Start with our comprehensive selection of property damage restoration services, including but not limited to:
If you're experiencing these or other signs of a fungal infestation, call the mould remediation crew at 911 Restoration today. Our mould inspection experts examine your home or business for any sign of a hidden infestation. They employ state-of-the-art methods to ensure safe and effective mould cleanup. Our mould decontamination staff even follows up with preventative treatment for your structure as well as property repairs.
Comprehensive Mould Remediation in Calgary – Your Local Restoration Company
At 911 Restoration, we believe in turning every challenge into a new beginning for our customers. That means you can count on us to not only clean up the mould, but also leave your home or business feeling fresh and strong. 
Our IICRC-certified mould remediation team is highly trained and empathetic to your unique needs. They communicate clearly so you always understand what they're doing and why. 911 Restoration of Calgary is locally owned and operated. We are also licensed, insured, and bonded for your peace of mind. Our team provides commercial and residential mould removal in Calgary. Whether you're in West Hillhurst or Mount Pleasant, you can turn to us.
Don't wait another day for industrial mould remediation. Call Calgary 911 store and let us give you a Fresh Start.
Do You Have Flood-Related Mould in Your Basement?
Local properties are especially vulnerable to basement mould. This is because basement flooding is extremely common, and fungus grows fast in dark, damp spaces.
Fortunately, the mould inspection experts at 911 Restoration are also trained and certified in Calgary water damage. They know where to look for mould from water damage. Just as important, they know how to get rid of it.
Our mould removal crew follows a multi-step process to address your entire fungus problem, from cause to long-term outcomes. After the initial mould inspection, our workers determine the best strategy for eradicating your specific species of fungus. They approach cleanup methodically and carefully, preventing the spread of mycotoxins and other harmful particles.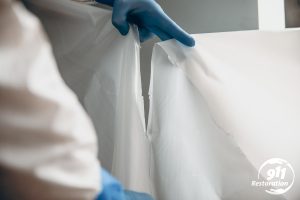 Mold Decontamination And Structural Dehumidifying
After mould decontamination, our technicians begin a process called structural dehumidifying. Using professional fans, they dry the site of the infestation down to its core. Mould growth is often an indication that a structure is storing moisture. This is especially common in water damaged properties. Even your concrete basement floor absorbs and stores water. That moisture eventually rises to the surface. The goal of structural dehumidifying is to minimize the risk of a future infestation. This helps you avoid an endless cycle of fungal growth and mould removal.
Finally, our mould cleanup staff handles all the repairs you need for a Fresh Start. Fungus can cause staining, crumbling, and other damages. Our experts provide everything from carpet removal to drywall replacement.
If you've recently dealt with water damage in your home or business, don't wait to get a mould inspection. Call 911 Restoration for full-service mould cleanup in Calgary.
Reliable Toxigenic Mould Remediation in Calgary
Many property owners fall into the trap of attempting mould cleanup themselves. We understand the temptation to try to save money by taking matters into your own hands. Unfortunately, this approach only costs you more in the long run.
For one thing, DIY mould decontamination is rarely effective and never lasts. Even if you did successfully remove a growth using home remedies, the infestation is bound to return. Scrubbing at a mould colony is only a fraction of the battle. You need preventative measures like structural dehumidifying. You also need a professional mould inspection to ensure there is no additional colony hidden within your walls. Fungus uses airborne spores to reproduce, which means mould growing in plain sight could spawn a second colony in more discreet areas of your home or business. When you only address the visible problem, you leave hidden fungus to eat away at your structure and cause serious damage.
It is also crucial to consider your personal health. Mould is either allergenic, pathogenic, or toxigenic, depending on the variety. This means all fungi pose some degree of danger to your health. When you scrub at a growth, you put yourself in direct contact with mycotoxins and particles that can harm you. 
The safest option for yourself and for your property is to seek the assistance of a certified mould decontamination specialist. Our expert team is here to put your mind at ease and solve your mould problem once and for all.
Call now for safe, reliable mould removal.